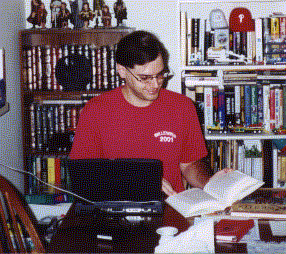 Founder and President of the Real Millennium Group

    Born: 1970

    Home City & State: Morrisville, PA USA

    Favorite Historical Person/Event/Period: Roman Empire through Renaissance

    Hobbies/Pastimes: Reading, Writing, Bowling, Collecting Medieval Weaponry, Ren Fairing, Collecting Legos, Doing research that I would have detested doing in school, RPG games, Simulation building games (SimCity, Caesar, etc.).

    Likes: Doctor Who, Star Blazers, Tolkein, the Sword of Truth and Wheel of Time Novels, Alanis Morrissette, AC/DC, Beatles, John Denver, Shania Twain (looks good in short leather skirts!), Star Wars, James Bond, and Arthur C. Clarke's "2001" series of course! Colorado Rockies, Tampa Bay Buccaneers.  Plenty of other things to numerous to mention.

    Other stuff: Obsessive/Compulsive personality

   I was in the third group of school kids from Jean Sheppard's A Christmas Story (Bullies, Toadies, and nameless victims), disliked having to do research and/or book reports, and really hated any math course.  Now I find research much more interesting, probably because I am not forced to do it, but still avoid math if at all possible.  I also love going to historical sites and into old buildings when I get the chance -- it brings me a little closer to the past.  It's really amazing to stand in a spot and think that a hundred or a thousand years ago a living, breathing person was standing in that same spot.

    I would like to see the Fred Saberhagen "Swords" series of books and a small sci-fi novel called Derelict by Robert L. Hovorka, Jr.  made into movies.  I would like to learn to read and speak Latin, live in the desert, write books and do some acting.  I think we also need to bring back medieval forms of torture and punishment to get crime and violence in this country under control.

    Why did I become involved in the RMG?  I started this site because I felt the need to put things right.  Comes from being O/C I suppose, and this is one argument I thought I could win -- after I made sure I was right in the first place by doing the research.  Plus, my delusions of grandeur made me believe that once I put the info out, everyone would stand up and say, "By golly, you're right!  We can't celebrate the millennium until 2001!"  Then I woke up.  I just needed to put the truth out there.  We're living in a world that is too PC, and the truth and knowledge are taking second seats to the attitude that is taking over society  -- I thought the "Me" attitude died with the 80's, but it apparantly just modified itself for the 90's and beyond. Now it's the "Just Do It" attitude.

    I never really thought the group would become this popular -- or notorious. Actually, all this attention about the group and the millennium in general just amazes me.  It's just becoming overkill, and I have to laugh at how much attention the RMG has gotten since we began. But I would much rather just have people acknowledge the truth and let any mention of the RMG come second.  We're really just an unimportant collection of people with common goals -- the ideals we strive for are much more important than the entity itself.  Let's make the message of Truth, Knowledge, and Peace more important than the messenger.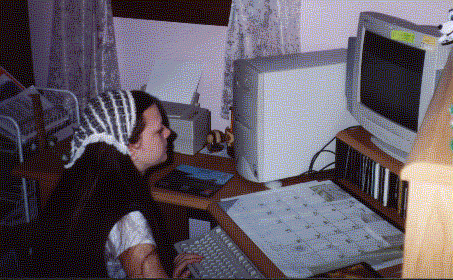 Founding Member and 1st VP of the Real Millennium Group

Born: 1983

Home City & State: Durham, England

Favorite Historical Person/Event/Period: The American Civil War and the Renaissance.

Hobbies/Pastimes: Dance, NASCAR, hockey, acting, singing,  STAR WARS, the Law &

Order TV show, the BBC's Ballykissangel, French, and History.

Other Stuff:  Witty, energetic, and tenacious. Loves Saint Patrick's Day and Christmas.

  I graduated from Westminster Choir College in Princeton, NJ.  I enjoy dancing at a local instructional school where I participate in ballet, tap, jazz, lyrical, and Scottish Highland dancings.  In the 1999 recital I danced the role of the cowardly lion and in 2000 danced the part of the Autumn Fairy in "Cinderella."  I also enjoy drama and recently appeared in William Mastrisimone's anti-violence play, "Bang, Bang, You're Dead." I was the Music Teacher and Co-ordinator for the last two years at the Grade Schools located on McGuire Air Force Base in NJ.

   I would either like to go into law, history, or acting.  I became involved in the RMG because I graduated from High School in 2001 and was sick and tired of hearing the class of 2000 always being called the "Millennium Class."  Plus, what I am going to school for if not to learn and increase my knowledge?


Founding Member and 2nd VP of the Real Millennium Group

Born: 1974

Home City & State: Philadelphia, PA USA

Favorite Historical P/E/P: General George Patton; World War II

Hobbies/Pastimes: Comics, MST3K, Baseball, NRA, Morpheus Int.